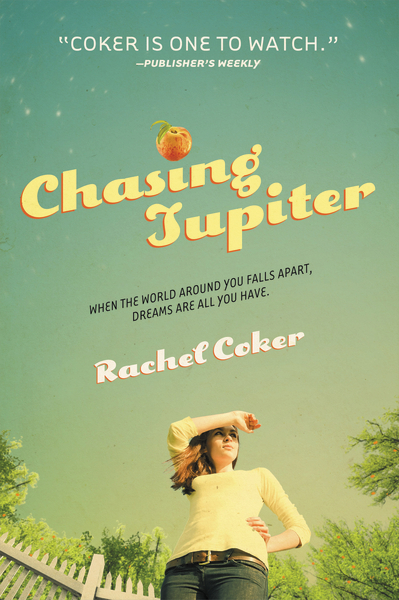 Our family seemed so cracked lately. And I was the only glue keeping us together. Juli was defiant; Grandpop Barley was erratic; Cliff was well, Cliff; and Mama and Dad seemed dangerously close to breaking.
I was nowhere near being ready to fly.
Most families have their troubles and quirks, but Scarlett Blaine's family seems to be overloaded with them. From her parents financial struggles and sister Juli's eccentric hippie lifestyle, to Grandpop Barley's obsession with peanut butter and her little brother Cliff's collection of random Spanish trivia he casually drops into conversation, Scarlett often feels overwhelmed and under-appreciated. But during the summer of 1969 when her family seems to be unraveling at the seams, one promise she makes to Cliff--to build a rocket to Jupiter--will serve as a turning point that will change all of their lives forever.
Rachel Coker
(
Interrupted: Life Beyond Words
) has a gift of creating not just one or two but a whole cast of three-dimensional characters. Each character is written in a realistic and touching manner that makes you care about each and everyone. From the high moments to when tragedy strikes,
Chasing Jupiter
tugs at the heartstrings and makes you long for a happy ending when all seems lost. I like how Coker dealt with various circumstances in a realistic way and showed how when viewing things through God's eyes, peace will come.
*I'd like to thank the author and publisher for providing me with a free copy of the novel in exchange for my honest review.
Genre: YA/Historical Fiction/Coming of Age
Ages: 12 and up
Pages: 216
Publication: January 2013
Team Novel Teen is a group of bloggers dedicated to spreading the word about clean teen fiction. Check out other posts about
Chasing Jupiter
by Rachel Coker by clicking on the links below, and check out
www.NovelTeen.com
for more information about Team Novel Teen.