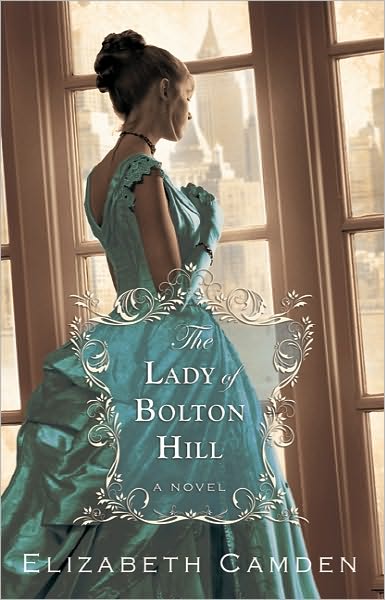 Clara was not precisely sure what the future held for them, but of one thing she was certain: Daniel Tremain was the best friend she had ever had, and no distance or class or circumstance would ever tear them apart.
Wealthy, timid Clara Endicott and poor, confident Daniel Tremain have been best friends ever since they discovered a common love for music when they were just children. Just as their friendship is on the cusp of blooming into something more, Clara's father ships her off to England. Seperated by time, space, and misunderstanding, Clara and Daniel's paths merge again twelve years later. Daniel is now a bitter, wealthy businessman, and Clara is an independent, crusading journalist. The old spark and connection is still there, but is it enough to sustain the two changed individuals?
The Lady of Bolton Hill
by
Elizabeth Camden
is a fun, historical, romantic, and surprising ride. Several chapters in, a new character is introduced: Alexander "Bane" Banebridge, and the story takes a sudden twist that had me going, "Whoa! What?" I was a little skeptical how this storyline would work with the main one, but the way the author connects the two made me love the story even more and had my jaw hanging open a few times. I never knew what was going to happen next. And, can I just say, Bane is now one of my all-time favorite book characters. ;-)
Just as a warning for younger readers, there are mentions of opium use, which is not looked at favorably in the story, as well as some violence and other situations hinted or mentioned as happening to some characters off-screen and a couple times on-screen (though these aren't very graphic). These scenes serve a purpose, however, and I believe were necessary in understanding a certain character.
While reading The Lady of Bolton Hill I often wanted to wince, smile broadly, or face-palm myself at some of the things the characters did, but I think that's part of the reason why I enjoyed this book so much. The clever, realistic individuals are people I was rooting for until the very end.
Genre: Historical Fiction/Christian/Romance
Ages: 16 and up
Pages: 331
Publication Date: 2011
*I was ecstatic (literally, I did a mini happy dance in my room) to discover that Alexander "Bane" Banebridge's story is going to be continued in October 2012. This spin-off of
The Lady of Bolton Hill
is titled
Against the Tide
.