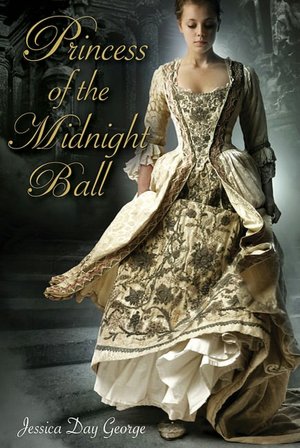 King Gregor...waved the slipper in her face now. "And how is it that you get out of your rooms to begin with? I lock you in every night my own self! Hey? Hey? Answer me! Put you in different rooms, and I wake up to find all the doors open and you all lying about the rug in Rose's sitting room like a litter of puppies! What was that about, hey?"
But King Gregor won't get an answer from his twelve daughters. It's not that they are rebellious and refuse to speak. They physically can't answer questions about where they disappear to at night. Why, you may ask? They're cursed.
For years, eighteen-year-old Princess Rose of Westfalin and her eleven younger sisters have been living under a curse they inherited from their deceased mother, Queen Maude. Every night at midnight, they are summoned to the evil King of Under Stone's enchanted palace...to dance.
Princess of the Midnight Ball
by
Jessica Day George
is an absolutely lovely version of the Brothers Grimm tale "The Twelve Dancing Princesses" (aka "The Worn-Out Dancing Shoes" or "The Shoes that were Danced to Pieces"). Rose is a heroine who carries the heavy burden of being a mother-figure to her younger sisters in addition to the duties of being the Crown Princess. When her father decides to auction her off as a bride to the first man who can solve the mystery of where the princesses disappear every night, Rose has a whole other problem on her hands. For every suitor who attempts to solve the mystery ends up dying a mysterious death. This does not help foreign relations one little bit.
Galen is a former soldier who now serves as an under-gardener at the palace. He's a kind young man who befriends the princesses, especially Princess Rose. When Galen volunteers to solve the princesses' mystery, Rose and her sisters fear for his life. But Galen has some tricks up his sleeve that include an invisibility cloak and his knitting hobby.
In fact, this story reminds me alot of something Galen might knit with his pair of very special, silver knitting needles. Woven within is suspense, humor, mystery, loveable main characters, and a downright nasty villain. Add in a glimmer of romance and a shimmer of silvery enchantment, and you have a classic fairy tale to wrap around yourself and enjoy.
Genre: Fantasy/Romance
Ages: 12 and up
Pages: 272
Publication Date: 2009
*Extras: In the back of the book, there are a couple knitting patterns to make replicas of two important knitted items in the story. There's also a Pronunciation Guide and the first chapter of the sequel, Princess of Glass, which is based on the fairy tale, "Cinderella." Poppy, one of the twelve dancing princesses (and perhaps the most sassy), is the main character.